NATIONAL SERVICE SCHEME (NSS)
Background : The National Service Scheme (NSS), a voluntary and value-based student youth programme, is one of the major youth schemes being operated in the Ministry of Youth Affairs & Sports. The Scheme was launched with the primary objective of developing the personality and character of the student youth through voluntary community service. It was launched on 24th September 1969, during the birth centenary celebration of Mahatma Gandhi.
Aims & Objectives:
To render service to the community while studying in an educational institution.
To arouse the social conscience among students
To provide them with an opportunity to work creatively and constructively with the community around the educational campus.
To put the education they receive to concrete social use and specifically
To work with and among the people
To engage in creative and constructive social action
To enhance knowledge of oneself and the community through a face to face with reality.
To use the knowledge gained in the classroom in a practical way for mitigating at least some of the social problems.
To gain skills in programme development to be able to be self-employed.
Motto: The motto of the NSS is "NOT ME BUT YOU". This expressed the essence of democratic living and upholds the need to appreciate the other person's point of view first and to show consideration for fellow human beings. It also underlines that the welfare of the individual is ultimately dependent on the welfare of society as a whole. NSS attempts to establish meaningful linkages between "Campus and Community", "College and Village" and "Knowledge and Action"
Chair Person: Dr. K Sailatha
NSS Officer: Mr. Sathish V
NSS Members:
Mr. Nagaraja S R
Mr. G P Nagesh
Mr. Mohan D
Mr. Harsha C Mathad
Mr. Anmol U K
Mrs. Sharadha G
Student Representatives:
Aloka K R (III BBA)
Shrushti (II BCA)
Bharath S N(III B.Com)
NSS Activities: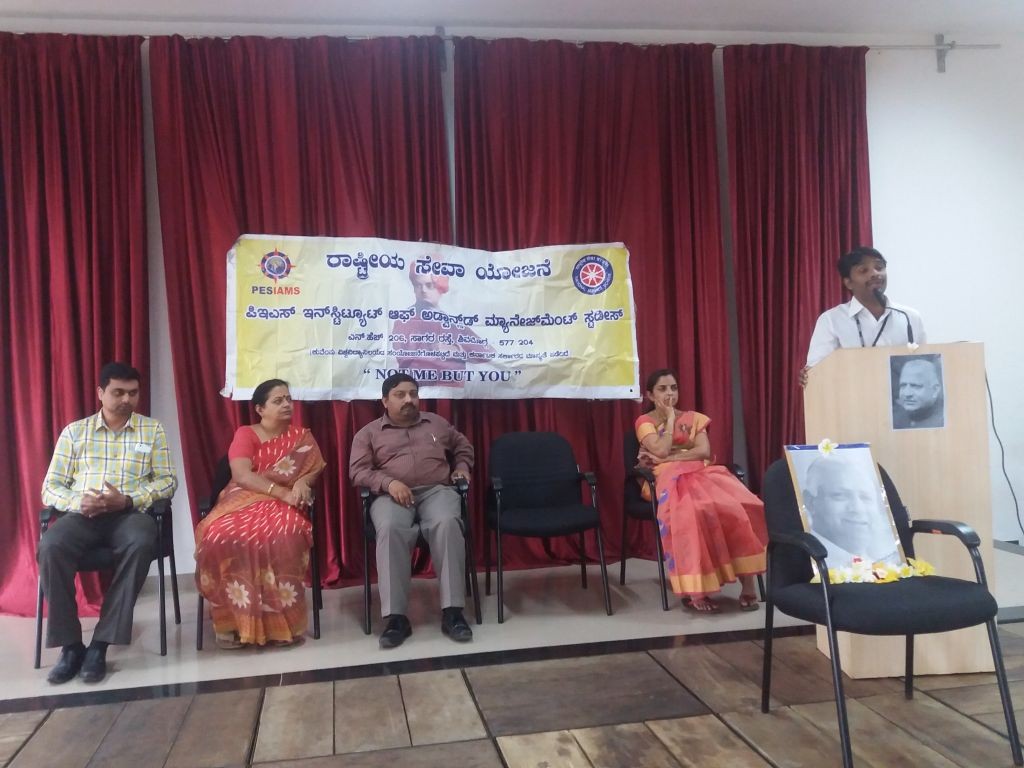 "Rashtriya Satbhavana Divas" and the 101st Birthday celebration of the Ex-Chief Minister of Karnataka Late. Devraj urs, was held at...
Read More