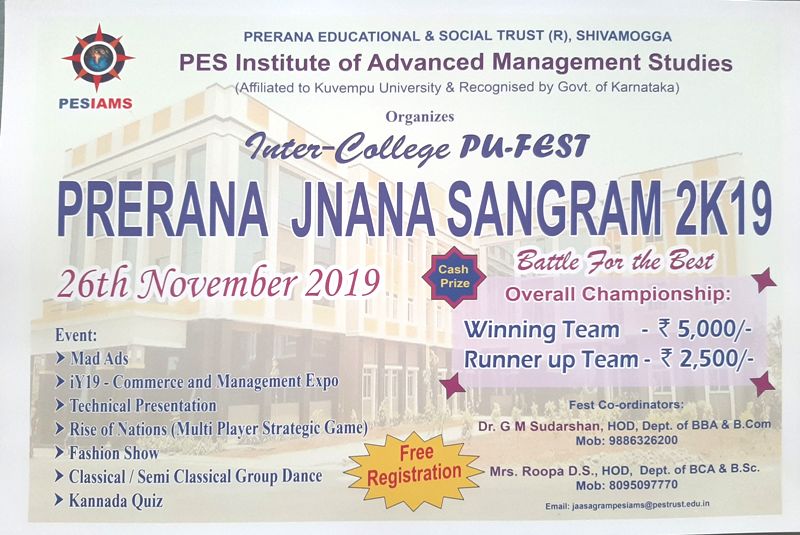 "Youth are not useless, but used less", opined Dr. K. Nagaraj, Principal of Sri Aurobindo Pre-University (Ind) College, Javahalli, Shivamogga, while inaugurating the one day PU Fest Prerana Jnana Sangrama-2019 organized by PES Institute of Management of Studies of Shivamogga, as the chief guest on 26-11-2019. Speaking on the occasion he pointed out that India being a country of youth, utilizing them in the right manner would help it to grow into a healthy and strong nation. Students' life is a crucial stage which is filled with responsibility and the parents and the teachers play an important role in nurturing and shaping their future in the right manner. He further advised the students to act with a clear vision in life which would lead to transformation of their lives in a positive way.
Dr. R. Nagaraja CCA of PES Trust in his presidential remarks said that in order to become successful leaders in future, the students require the right guidance and support from their elders and that the time was ripe for the students to decide about their future and work towards achieving their goal. Cautioning the students to put in more efforts, he felt that past success was a hindrance and enemy to future progress.
The Principal of the college Dr. K. Sailatha in her introductory speech gave an insight into the fest and the details of the events. The invocation song was sung by Ms. Priyanka and Ms. Ranjitha. Dr. Sudharshan G.M welcomed the gathering while Smt. Roopa D.S proposed vote of thanks. Ms. Aishwarya anchored the programme. More than 450 students from different colleges in and around Shivamogga district participated in the fest that consisted of seven events.